Third Statement Overview
Coinomi made desperate attempts to salvage its tarnished public image following the "Spell Check" scandal. Despite their unsuccessful social media tactics, they resorted to hiring a third-party company called CipherBlade to defend them and discredit my case against them.
It is important to note that Coinomi has a history of engaging in cheap practices (check my previous statements), as I have previously mentioned. In this instance, they went so far as to employ CipherBlade, a company with minimal experience and no established track record, in an attempt to whitewash their wrongdoing. I urge you to read the entire statement from CipherBlade to understand the extent of Coinomi's cheap tactics.
In their report, CipherBlade concluded that my funds were stolen due to malware on my machine and not as a result of Coinomi's "Spell Check" hidden feature that transmitted my seed/passphrase to a third party in plain text. Despite claiming impartiality, CipherBlade ignored several crucial facts and attempted to mislead the community, much like Coinomi. It is worth noting that CipherBlade directly challenged me in their report, calling into question their claimed impartiality.
Furthermore, CipherBlade did not make any effort to contact me or verify the information from my perspective. This raises doubts about their alleged lack of bias in favor of Coinomi. It is evident to anyone with common sense that CipherBlade is making concerted efforts to launder Coinomi's public image, just as they previously did with ShapeShift.
A Reminder
First of all, let me remind you of the following tweet that Coinomi posted after my first statement:
Blockchain Analysis Firm Feedback
They stated that they hired a Blockchain analysis firm and they claimed that the funds were NOT stolen. I wonder, was it CipherBlade? How is it that they are now stating that the funds were indeed stolen?
Coinomi also mentioned in their their support ticket, before the issue became public, that they were collaborating with their partner "Chainalysis," another Blockchain analysis firm, and they claimed that they would blacklist the addresses involved. However, upon my own investigation and confirmation with several exchanges, it appears that no such blacklisting has occurred. This raises questions about what Chainalysis had to say about the incident. Were Coinomi's intentions to leverage the reputation of Chainalysis for trust and to mitigate the situation?
Coinomi also stated in their official statement that they have contacted Google, but there is no update regarding their claim since 27th February:

Furthermore, Coinomi has accused me of blackmailing them, suggesting that I intentionally sent the stolen crypto-currency to myself and falsely blamed them for my loss. However, it is contradictory that they now change their narrative and confirm that the funds were indeed stolen. These inconsistent statements and actions by Coinomi only serve to further undermine their credibility. They have propagated false information in an attempt to mislead the community, and they have resorted to hiring external entities to support their position. Such behavior raises serious doubts about the integrity and trustworthiness of Coinomi as a company.
Making Things Clear
CipherBlade was hired by Coinomi to write the report, and they clearly stated that in their report:

It is interesting to observe how Coinomi carefully chooses their words to present a more favorable picture. Their use of the phrase "we were compensated for our time" actually implies that they paid for the report. It is clear that CipherBlade was biased towards one party, otherwise, why would Coinomi invest money in a report that may not guarantee a favorable outcome and could be influenced by them. This raises doubts about the objectivity and independence of the report provided by CipherBlade.
Furthermore, CipherBlade disregarded the substantial evidence and facts presented in my initial and subsequent statements. Their report relied solely on assumptions, without considering the concrete evidence that my loss was a result of my seed/passphrase being sent to Google. Coinomi has a legal obligation to engage with Google and initiate an investigation, yet CipherBlade conveniently overlooked this crucial fact as it does not align with Coinomi's stance in this case. This selective omission raises doubts about the integrity and thoroughness of CipherBlade's analysis.
Despite CipherBlade's repeated suggestions in their report, I want to clarify that my objective is not to investigate or apprehend the individual responsible for the theft of my crypto-currency assets. Instead, my primary goal is to pursue legal action against Coinomi to seek compensation for my losses. The crux of the matter lies in the fact that Coinomi's software contained a concealed feature, undisclosed in their documentation and terms of use, which transmitted my seed/passphrase to a third-party server. This omission on Coinomi's part is the basis for my legal claim and pursuit of justice.
I didn't directly utilize Google API services; instead, I relied on Coinomi's wallet, which incorporates a feature that transmits the user's seed/passphrase to Google servers. Consequently, Coinomi bears legal responsibility for engaging with Google and pursuing the identification of the perpetrator. To illustrate, in cases where an exchange experiences a security breach resulting in the theft of users' funds, affected users typically initiate legal action against the exchange rather than the individual responsible for the breach. This is because users place their trust in the exchange to safeguard their funds, aligning with the principles outlined in Data Breach laws in the UK and Europe. It appears that CipherBlade may lack a comprehensive understanding of these laws, despite claiming to possess expertise in legal proceedings and advice.
Ironically, despite proclaiming themselves as a cyber-security firm, CipherBlade failed to recognize the severity of the "Spell Check" bug as a CRITICAL vulnerability in their report. Their oversight in acknowledging the gravity of the issue raises questions about their competence in the field. With that in mind, I sarcastically nominate CipherBlade as the epitome of excellence in the cyber-security industry (pun intended).
CipherBlade's Report
When one encounters a case study report authored by a purported blockchain analysis firm, the natural expectation is for a technical analysis supported by substantial evidence. However, in the case of CipherBlade, their report primarily revolves around presenting negative arguments against me while offering favorable assumptions in favor of Coinomi. The report gives the impression of being drafted by a legal firm aiming to defend its client's interests (or possibly even written by Coinomi themselves).
Most of the arguments raised by CipherBlade in their report have already been addressed in my previous statements. However, I would like to emphasize and quote some of the false arguments that CipherBlade presented in their report to support Coinomi's position positively. It is important to examine these arguments in detail to expose their inaccuracies and misleading nature.
Quoting from CipherBlade's report: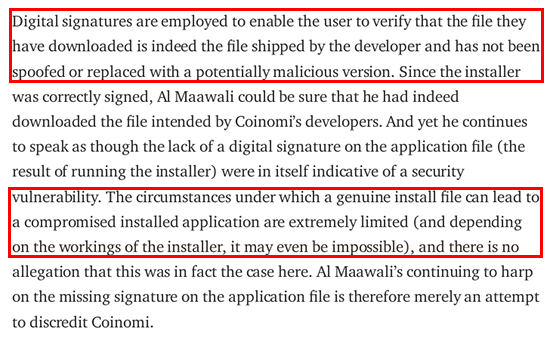 This is a clear example of CipherBlade contradicting itself. They acknowledge that digital signatures are used to verify the authenticity and integrity of a file, ensuring it has not been tampered with. In the case of Coinomi, the main executable files were not digitally signed, which supports my claim that there were security vulnerabilities. This inconsistency further strengthens the validity of my argument.
CipherBlade's claim that it is nearly impossible for a digitally signed installer file to contain a malicious executable file is a misleading and incorrect statement. It demonstrates a lack of technical and cybersecurity knowledge on their part. Digital signatures are meant to verify the authenticity and integrity of a file, but they do not guarantee the absence of malicious content. Malicious files can still be present within a digitally signed installer file, especially if the digital signature itself has been compromised or the file has been tampered with after the signing process. This statement by CipherBlade showcases their misunderstanding of cybersecurity principles and raises doubts about the credibility of their report.
A digital signature is used to build trust between the developer and the user by ensuring the integrity and authenticity of a file. However, it is important to understand that a compromised digital signature certificate can be used by an attacker to digitally sign malicious files on behalf of the original developer. Additionally, there have been instances where attackers have successfully modified executable files before the building process or during the creation of the final setup or installer file, even in cases where the application was digitally signed. These examples highlight the fact that a digital signature, while important, is not a foolproof guarantee of the security and trustworthiness of an application. It is crucial to implement robust security measures throughout the development process to detect and prevent such compromises.:
Powerful backdoor found in software used by >100 banks and energy cos.
Now, let me highlight a significant point to conclude this argument. The deletion of a tweet by Coinomi, where they initially confirmed the absence of a digital signature, raises suspicion and prompts questions about their actions. The removal of this tweet may give the impression that Coinomi is attempting to hide or alter previously acknowledged information. It is important to consider the implications of such actions, as they can impact the perception of the company's trustworthiness and credibility.
Screenshot of the tweet
Link to the original tweet
Moving to the next statement: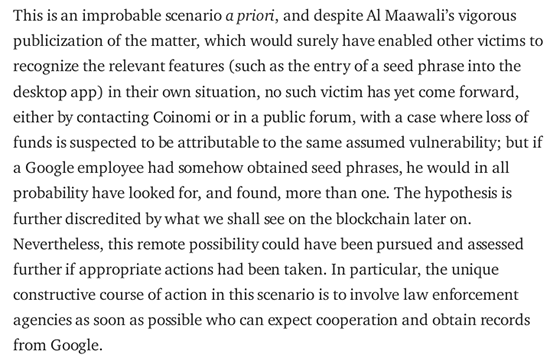 I have thoroughly addressed this argument in my second statement, providing a detailed explanation of why I believe I was likely one of the early victims. In that statement, I highlighted a crucial point that the desktop wallet I used was relatively new, with a lifespan of less than three months. Additionally, I presented other pertinent facts that support my claim. For further information and a comprehensive understanding of the circumstances, I invite you to review my second statement:
Second Statement: Patient Zero
There have been multiple reports of users experiencing stolen funds both before and after my incident when using Coinomi's wallet. While the cause could be attributed to the same vulnerability, such as another potential backdoor in Coinomi's wallet or users' inadequate security precautions, it was evident in my case that my crypto-currency assets were stolen due to the presence of Coinomi's hidden "Spell Check" feature. This feature specifically played a significant role in the compromise of my assets, as detailed in my previous statements.
Referring to my solid facts as a "hypothesis" is yet another misleading statement. In my second statement, I provided detailed explanations regarding how Google explicitly states that it handles invalid requests to their API server with caution. The specific details can be found in my previous statement, where I outline the clear evidence supporting my claims here:
Second Statement: Legal Implications
Moving on to the final quote in this part: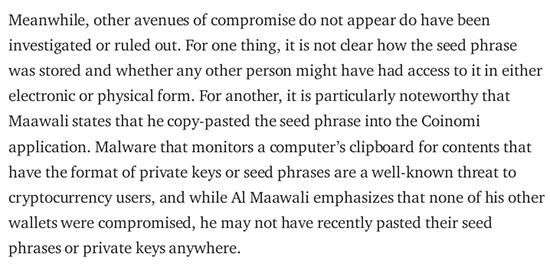 CipherBlade claims that the possible cause of my stolen crypto-currency assets is malware that monitors the computer's clipboard. Once more, it's just an assumption that I have already addressed in my video response.
As mentioned in the video, Coinomi was installed on a separate and isolated virtual machine. Both my main machine and the virtual machine were equipped with an Anti-Virus/malware application called SpyShelter. SpyShelter is an advanced Anti-Spyware program with a Host Intrusion Prevention System (HIPS). It actively monitors and detects the behavior of applications, regardless of whether they are considered malware or not. One of its features is clipboard protection, which alerts the user if any application attempts to access or capture clipboard data. More information about this feature can be found on the SpyShelter website:
https://www.spyshelter.com/clipboard-protection/
Moreover, it is important to note that I have utilized a password manager to copy and paste passwords related to various other crypto-currency wallets, bank accounts, PayPal, Amazon, eBay, and numerous other platforms over the past five years. Despite this, no compromises or thefts occurred except for the wallet in which I pasted my seed/passphrase, specifically Coinomi's wallet. In light of this, I invite CipherBlade to share their cyber-security expertise and enlighten me with their insights.
The So-called Blockchain Forensics
Once again, I find it intriguing how CipherBlade employs terms like "Blockchain Forensics" to amplify their expertise and promote their services. In reality, their approach can be described as "Blockchain Visualization," a task that individuals with average Blockchain analysis skills and knowledge can surpass. In fact, I was able to achieve more comprehensive visualization and gather data using freely available open-source tools, which allowed me to uncover certain IP addresses and email accounts associated with the addresses involved in this series of transactions.
I will start quoting their so-called "Blockchain Forensics":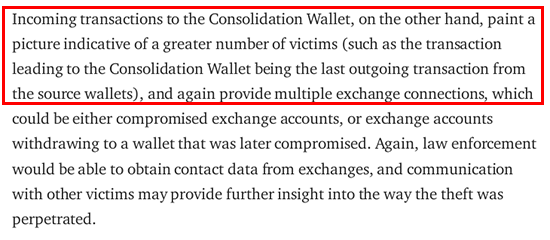 Once again, CipherBlade's conclusions appear contradictory. Initially, they attributed the cause of the incident to a potential malware that monitors the computer's clipboard. However, they have now shifted their explanation to a keylogger based on their analysis of ETH transactions. It is perplexing how they managed to transition from a blockchain visualization diagram to determining the characteristics of malware. It seems they may be employing some undisclosed advanced technology worthy of a NASA patent.
I'm honestly not sure how they came to that conclusion! Therefore let's raise some valid questions to CipherBlade:
Did they provide any solid proof that links these addresses to any known malware?
The answer is clearly NO.
Did they provide any solid proof that these addresses belong to other victims?
The answer is clearly NO.
Furthermore, CipherBlade attempted to support their claim by presenting a graph that they believe represents the characteristics of a "mixing" service. However, it appears that CipherBlade may lack a comprehensive understanding of how a mixing service operates. The other addresses they attribute to other victims could potentially belong to unrelated individuals, whether they are involved in criminal activities or not. These addresses might also be part of the mixer's address pool, which is used to fund the Consolidation Wallet and make the tracing process more challenging.
Each mixing service provider operates differently, with their own unique characteristics. Some mixing services are designed to make transactions harder to trace, while others may be more traceable. However, the common practice among mixing services is to fund the user's new wallet address with coins that are not associated with the mixing process itself. The mixing service assumes the risk associated with the mixing process. Below is a simple illustration taken from an existing mixing service (reference removed to avoid the accusation of promoting illegal services):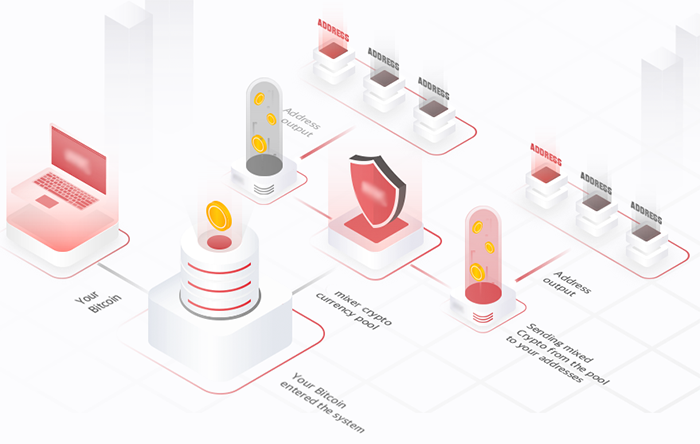 On the other hand, when CipherBlade analyzed BTC transactions, they came to the conclusion that these transactions reflect mixing service characteristics:

So the question arises, how can CipherBlade's analysis simultaneously characterize the entity that stole my crypto-currency assets as both malware in ETH transactions and a mixing service in BTC transactions? This apparent contradiction raises concerns about the consistency and reliability of their findings. It is important to address this inconsistency and seek a comprehensive and unbiased investigation to determine the true nature and identity of the entity responsible for the theft of my assets.
Moving to the final quote in this part:

This statement brings a sense of amusement. The implication made is that a crypto-currency thief would choose to make a single or direct transaction to move the stolen funds, which would be remarkably foolish. It is common knowledge that any competent crypto-currency thief would seek ways to make the stolen assets untraceable. Utilizing a mixing service is a straightforward and effective option for achieving this objective.
Who The Hell Is CipherBlade?
CipherBlade is a relatively new company that commenced operations in mid-2018 and has a limited history, depending on one's perspective. On their website, they assert that they have successfully recovered millions of dollars:

Despite the concerns raised later in this piece, it's important to acknowledge that CipherBlade claims to have successfully recovered millions of dollars in cryptocurrency, according to statements on their website. Such a feat, if accurate, would be a significant accomplishment in the field of digital asset recovery. However, readers should be aware that without independent verification or substantiated case details, such claims should be approached with scrutiny.
It is ironic to note that despite their claim of recovering millions of dollars, CipherBlade initially used a free email address instead of a professional business email address when they started their business. This observation is based on a screenshot taken from their website in September 2018.

It is worth noting that the incorporation documents of CipherBlade reveal a connection to multiple companies, with many of them being registered in Seychelles. Seychelles is often associated with offshore companies, offering a relatively easy process for company registration. It is known as a destination favored by individuals seeking to engage in money laundering land of money launders, tax evasion, or hiding their true identities behind fictitious business names.
The characteristics of CipherBlade's incorporation document suggest that it shares similarities with what is commonly referred to as a shell company or virtual company. These types of entities can raise suspicions due to their lack of substantive business operations. To gain a more comprehensive understanding of the questionable nature of CipherBlade's business practices, I recommend reading the following articles for further detailed information:
The Challenge
CipherBlade has challenged me to upload an image of my virtual machine for Digital Forensics analysis to determine whether my machine was infected with malware. However, considering the questionable nature of CipherBlade's business and the lack of trust I have in their operations, it would be unwise for me to share my personal data with a company that raises suspicions.
However, I appreciate the concept of the challenge and believe it should apply to both Coinomi and CipherBlade to ensure fairness and transparency in the assessment of the incident:
An independent and reputable third-party with a proven track record and expertise in digital forensics will be engaged to conduct a thorough analysis.
The fees for the digital forensics analysis will be deposited into a trusted escrow service to ensure transparency and fairness.
If the results of the digital forensics analysis conclude that my machine was free of malware, then Coinomi will assume full responsibility for reimbursing my stolen cryptocurrency assets (17 BTC or its equivalent). In such case, Coinomi will also be responsible for covering the fees associated with the digital forensics analysis. However, if the analysis determines that my machine was indeed infected with malware, I will bear the responsibility for covering the fees of the digital forensics analysis.
To add an interesting twist, I have a challenge for CipherBlade. In their report, they suggested that it would be relatively straightforward to trace and recover the stolen crypto-currency assets if proper procedures were followed. In light of this, I hereby grant them full permission to undertake the recovery of my stolen assets, and I offer them a 25% bounty on any successfully recovered funds as an incentive.
At the very least, they can update their website later to proudly announce that they have successfully recovered hundreds of thousands of dollars (pun intended).
Privacy Violation
CipherBlade has infringed upon my privacy by publicly disclosing my personal cryptocurrency wallet addresses without my consent. These addresses are considered private information, particularly in my case involving illegal activity, and should only be accessible to the authorities and the relevant parties involved in the case.
It is evident that CipherBlade demonstrates a lack of professionalism and, more importantly, knowledge about laws governing privacy and data breaches. As a result, I will be reporting this incident to the Information Commissioner's Office as a violation of privacy.
Final Thoughts
I believe that based on the facts I have presented, it is reasonable to conclude that CipherBlade is a typical one-man show offshore company operating through a questionable chain of shell companies. Their business model appears to rely on profiting from people's losses and offering their services in cleaning up the mess created by other companies through their so-called blockchain analysis reports.
They engaged with Coinomi to benefit financially from writing the report and to gain attention by misleading the community with false information, claiming to have resolved this contentious case. However, their report has ultimately had negative consequences for them and has further damaged their reputation.
On the contrary, it is disheartening to see Coinomi facing financial repercussions for commissioning an external report that failed to support their position and did not receive any validation. It is unfortunate that they have resorted to baseless and inappropriate insinuations. Such tactics only serve to undermine their credibility further.
Info
To discuss this subject on reddit
click here
---
To discuss this subject on bitcointalk.org
click here
---
To discuss this subject on Twitter
click here
---
To watch my official video response to Coinomi's
click here
Further updates will be posted through social media channels (@warith2020), (@avoid_coinomi) and if required will be posted here.